4. Genetic Programming
Genetic programming is a special field of evolutionary computation that aims at building programs automatically to solve problems independently of their domain. Although there exists diverse representations used to evolve programs, the most common is the syntax tree.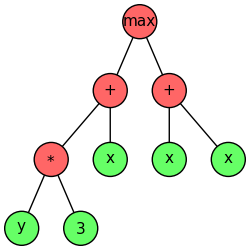 For example, the above figure presents the program

. For this tree and further examples, the leaves of the tree, in green, are called terminals, while the internal nodes, in red, are called primitves. The terminals are divided in two subtypes, the constants and the arguments. The constants remain the same for the entire evolution while the arguments are the program inputs. For the last presented tree, the arguments are the variables

and

, and the constant is the number

.
In DEAP, user defined primitives and terminals are contained in a primitive set. For now, there exists two kinds of primitive set, the loosely and the strongly typed.